The following two tabs change content below.
Over the last ten years, Derrick has spent thousands of hours building websites and optimizing them for the search engines, both for his own business and for clients. Derrick specializes in creating Lead Generation systems which include mini-sites, content distribution networks, social media and pay-per-click advertising.
Latest posts by Derrick Markotter (see all)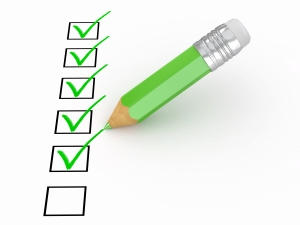 The Internet is a bit of a jungle, really. Anyone can write stuff about your business and post it on Facebook or Twitter, or on any of thousands of other free websites. They can leave reviews – good or bad – on sites like HelloPeter.com or Yowzit.com, or on your Google Place page.
Nearly 70% of consumers check online reviews before they decide to buy a product or use a supplier. These days, it's getting even easier – just search for a business with your smartphone, and you have access to dozens of real people's experiences. Sites like the ones I mentioned above get thousands of visitors every month.
Good reviews on these sites can do amazing things for your business. People trust them – at least the ones that seem authentic. If you're getting great reviews, you can relax. But if you're not on the ball, one scathing review can put potential customers off for years to come.
The key is to be aware of what people are posting about you, and where. If you know what they're saying, you can respond, and try tofix the damage. At the very least, you can build trust by showing potential customers that you are a real person, that you care about your customers and that you want to sort out problems. The alternative is to hide your head in the sand and lose customers without even knowing about it.
Let's face it, people are talking about you, whether you know about it or not. If you know about it, you can respond.
The review below was posted on a restaurant's Google Place page in 2010 – who knows how many customers have been put off since then.
One bad review may be excusable, but when there are two…
And the interesting thing is that the restaurant owner is probably unaware of these reviews, or if they are aware, they haven't taken the most basic steps towards counteracting their effects.
You can see that they haven't claimed their Google Place page. Claiming your Place page gives you the option of responding to reviews, both good and bad.
And here's where they appear in a Google.co.za search for "restaurant sandton"…
What can you do to limit the effects of a poor review? There are a number of steps you can take.
First prize is to reach an agreement with the person who left the review, to get them to take it down or change it. This is not always possible – some sites don't allow reviews to be edited once they're posted. But most sites, including Google, will allow a response by the business owner. In order to do this on Google Places, you'll need to claim your listing.
It's important to maintain a professional attitude when responding to negative criticism. You should not writing to relieve your frustration with the reviewer. You should be writing with the future in mind – the dozens, maybe hundreds of potential customers who may see the discussion over the next years. You need to make an earnest attempt to sort out the reviewer's problem, so that potential future customers can see that you are responsive, that you care, and that you are prepared to make an effort to protect the reputation of your business.
Another effective way to counteract poor reviews is to smother them with love. Make a concerted effort to get happy customers to leave positive reviews, so that the negative ones are pushed down. Google Place pages only show the first 5 reviews, so you many only need 5 to push a negative review onto the second page, where hardly anyone will see it.
Whatever you do, DO NOT post fake reviews. Google is smart enough to know when a bunch of positive reviews are all coming from one computer, and fake reviews tend to sound fake. If you post 15 "5-star" reviews on the same day, it looks a bit obvious. (Having said that, Google hasn't done anything about the ones below – but if I were a competitor, I might point it out and spoil their nice 5 star rating!)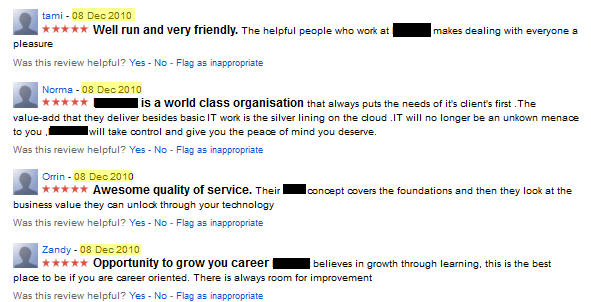 Rather, concentrate on giving your customers an awesome experience, and make it as easy as possible for them to post their reviews.
These days, most of your customers have smartphones. The easy solution to getting reviews posted is to get them to use their phones, and give them an incentive to post a review while they're still in your restaurant. Offer a small incentive, like a free coffee or desert, in exchange for an honest review.
Comments
comments
Powered by Facebook Comments