In January 2009 I posted about the value of blogging for businesses using the keyword phrase "johannesburg hardware" as an example. I posted a follow-up a few hours later, at which point my first post had reached position 8 on Google for "johannesburg hardware." I didn't think to add a screen shot!
Two and a half years later, something a colleague said to me reminded me of this post, and I checked up on it in Google. As I said in my follow up, there was no guarantee that the post would stay on the front page, but there was also no reason why it shouldn't.
Here it is: (result is from Google.co.za)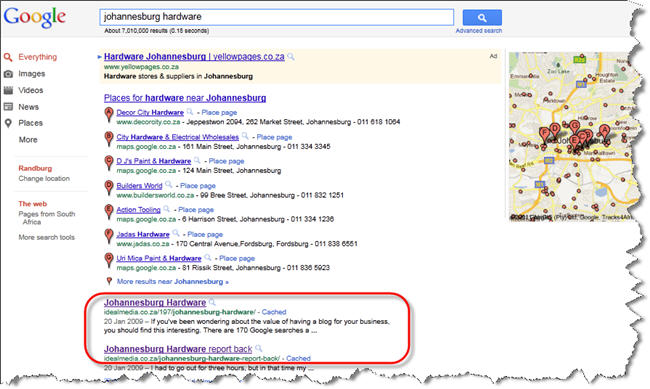 Things have changed a bit in the last two and a half years – most noticably, the Google Places results now dominate the top of Google's results page. This means that if you have a local business, it's relatively easy to get listed on the first page of the results, without even needing a website (although a well-optimised website does have an effect on your placement within the Google Places listings.)
Being of an inquisitive nature, I poked around a bit in the Google Places 7-pack (geek-speak for the seven Places listings Google usually displays – other variants are the 3-pack and the coveted 1-pack.) Amazingly enough, only one hardware store had claimed their Google Place page. You can see what's going on here: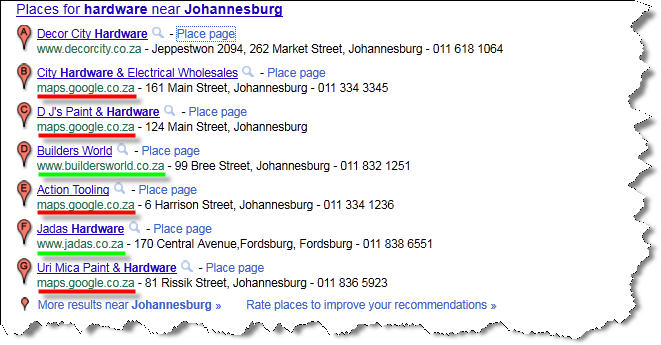 The listings where the URL is underlined in red indicate that Google doesn't have any record of a website associated with the business. Most likely, it also means that the Places listing hasn't been claimed. There are two listings (with the web addresses underlined in green) which have websites listed, but which also haven't claimed their listings.
Most hardware stores presumably depend on walk-in business and repeat customers. But with today's tough economy, what business can afford to ignore free services like Google Places?
If Google Places is a mystery, you can download my free report, "Google Places Mean Business." Just fill in your details in the form below.