LinkedIn introduced company pages in 2011. According to the LinkedIn Blog, there were 3 million company pages in June 2013 – a tiny fraction of the 259 million LinkedIn users.
LinkedIn company pages help to boost your company's credibility. You can build your brand, build a community of followers, get recommendations, post status updates and respond to comments. You can also showcase your products or services, and post job vacancies.
LinkedIn company pages are in many ways similar to Facebook pages, but with a distinct emphasis on business. Company pages offer a level playing field to businesses of all sizes.
Here's a short video from LinkedIn which explains company pages:
As I see it, the most important reason for setting up a company page is increased visibility. LinkedIn company pages are highly ranked by Google – here's an extract from the first page of the Google results for idealmedia marketing: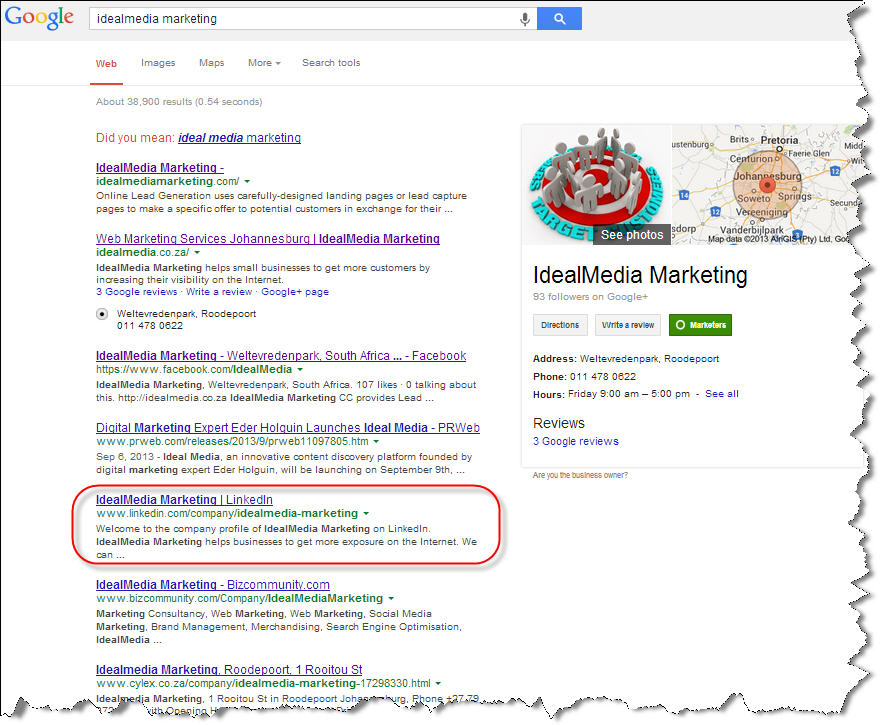 If your company page has been set up, LinkedIn will automatically link to it from your personal profile – and from the profiles of any of your employees who are on LinkedIn. LinkedIn inserts a small logo like this:
LinkedIn also automatically replaces mentions of your company name with a link.
Hovering over the logo or over a link to your company page pops up a neat summary of your company:
If you're on LinkedIn, and you own or manage a business, you should set up a company page. It's free, and it shouldn't take you more than an hour or so.
LinkedIn has some requirements for setting up a new company page:
You must be a current company employee and your position must be listed in the Experience section on your profile.
You must have a company email address (e.g. joh[email protected]) added and confirmed on your LinkedIn account.
Your company's email domain must be unique to your company. (Note: A domain cannot be used more than once to create a company page. Because domains like gmail.com or yahoo.com or similar generic email services are not unique to one company, those domains cannot be used to create a Company Page. You might consider creating a group rather than a company page if your company doesn't have a unique email domain.
Your profile strength must be listed as Intermediate or All Star – if not, you will need to spend some time completing it.
You must have several connections.
Here's another short video from LinkedIn, which shows you how to set up a company page:
You can start creating a LinkedIn company page here: https://www.linkedin.com/company/add/show
It's important to make your company page as complete as possible. The more detail you provide, the more effective your company page will be.
If you liked this post, do me a huge favour and click the button below to follow our company page on LinkedIn: