Small Business Online Marketing Strategy – Part 4: Facebook and Google+ Pages
Facebook Pages
Facebook Pages (also called Fan Pages or Business Pages) came out a few years ago and they are still a hot opportunity for businesses.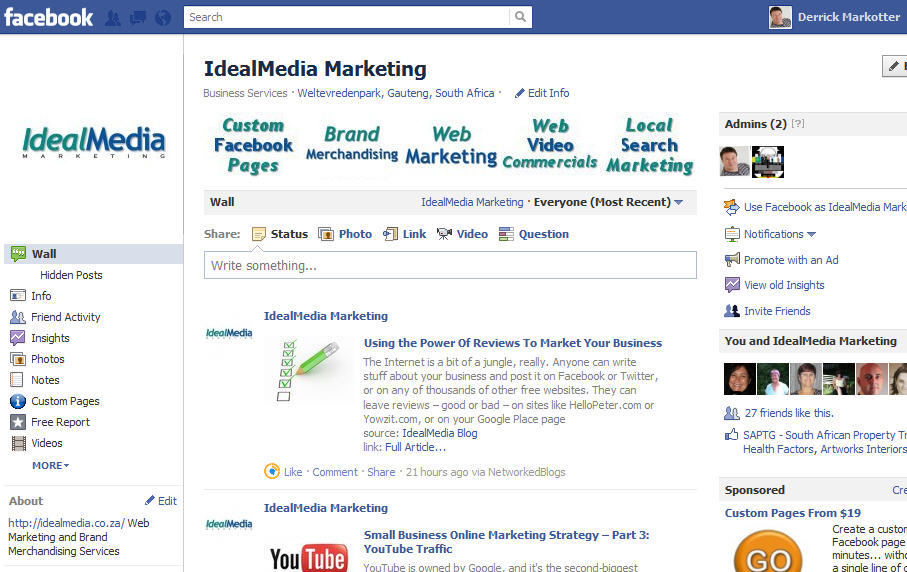 Here's why Facebook Pages are so important:
Facebook has over 800,000,000 users, and it's still growing strong! In other words there are plenty of opportunities for you to market your business. It doesn't matter which country you live in because Facebook is everywhere.

Facebook gets more Internet traffic than Google.

Facebook's patented Newsfeed functionality shows every user what their contacts (including Fan Pages) are doing when they log in. This can be harnessed to get massive viral exposure to explode your business

People understand and trust Facebook far more than a random website that they find in Google search.

Facebook Pages can be indexed by the search engines, and can be seen by people who are not Facebook members, or who are not logged in.

Facebook has released the 'like button' which users can use to vote on various content around the Internet. This 'like button' has been responsible for creating insane levels of buzz for people, businesses, and events. You can use this feature to ramp up your business too.
Other Things You Can Do with Facebook Pages
There are so many benefits, features, and functions that are possible with Facebook Pages that I don't know where to begin. In short, you MUST start developing a presence with a Facebook Page.
Google Plus Pages
Google introduced their Google Plus (or Google+) social network in June last year. By the end of 2012, there were 62 million users, with 625,000 new users joining every day. It's been speculated that Google Plus will have more than 400 million users by the end of 2012.
Google Plus has a clean interface,and it's easy to use. As with Twitter, you can follow people without asking their permission. Your contacts are added to "Circles", and it's easy to share content with one circle and not another.
Google Plus Business Pages were added in November 2011, and they have many of the features and advantages of Facebook Pages.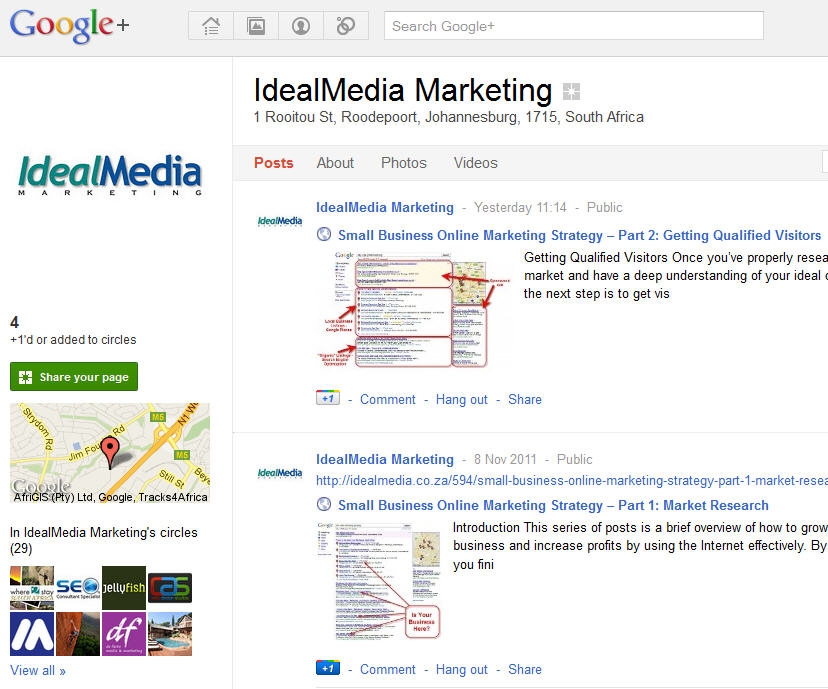 Most South African businesses haven't claimed their Google Plus pages yet, so now is the time to get in.
In the next part of this series, we'll take a look at converting visitors into customers.